It had been a while I had traveled alone to a tourist spot. Athirappilly (அதிரப்பிள்ளி) falls (I had been thinking it as Athirampally [அதிரம்பள்ளி] all these years) has been my object of fantascy for a very long time... since my college days. But looks like it had been jinxed for me. Whenever we planned to go there, it never materialised. All of a sudden last week I thought of going to Chalakudy, come whatever may, and visit the Athirappilly falls. Infact the plan was more of furtive thing opposed to my rooftop shoutings. Finally the D-day arrived.
The bus from Bangalore started at 7:15 PM and tested my patience by inching in snail pace. It took around 10:00 p.m to exit Karnataka after stopping at all the reservation centers. The guy who sat next to me was heading to Thrissur and looked like he had some complications back at home, so rushing for that. He often tried to ease by speaking to me in malayalam and I responded in the same language.

I woke up to the assistant's call for "Thrissur passengers" and I was shocked. I was under the impression that Chalakudy comes first before Thrissur. Thankfully the driver clarified that it will take another "mukkal manikkooru" (45 minutes) to reach Chalakudy. It was a misty morning, Kerala is already blessed with lush greenery, so the mist and eary sunrise just compounded the effect. I was just watching the visuals awestruck. Since the destination of the bus was Kollam, I was dropped at the bye-pass road of Chalakudy by 6:45 A.M.

I am always scared of the autorickshaw guys so just to avoid them I crossed the NH road and walked confidently as if I knew the place already. The first guy who came across was a college goer and I asked him the way to go to the bus stand. He told me to go straight and there will be a junction and the bus stand is few feet ahead of the junction. After I started walking he called me back and asked "Edhu bus stand-lekku ponam?" I said "Falls poganulla bus-ilekku". He said "Ok.. go straight". I already knew that Chalakudy has two bus stations - one for the State Corporation Buses and the another one for the private buses. The buses that go to Athirappilly falls are handled by the private buses.

I went to the modestly small bus station, had my tea at the Neelima hotel inside the bus station itself. I was not ready for a "Vada" breakfast or an oily heavy "pazhampori" in that early morning. I enquired about the bus to Valparai as it was my next agenda. A shopkeeper told that the bus had already left by 6:00 A.M and the next bus will be by 1:00 P.M afternoon. I was planning that I should be ready to catch up that 1:00 P.M bus if I want to go to Pollachi the same day. The bus to Athirappilly started at 7:30 A.M fully loaded with the passengers. I was charged Rs. 22 for the ticket to Athirappilly.

It passed through the streets of Chalakudy which was a modest town with a sizeable Christian population. All the way were the display of Christmas stars and other symbols. If my understanding is not wrong, there was a festival on that Saturday which made all the way to Athirappilly look colourful. I must learn to shed my inhibitions in taking photos in the common places. Since I was so shy, I didn't take the photos of these celebrations.


The bus slowly and steadily made its way towards Athirappilly crossing the suburbs like Parara, Kodumkuzhi, Vettikkuzhi and reached the dam called "Thumburmuzhy". After that it passed through an area called "Vettilappaara" where there are lots and lots of rooms/home stay cottages for an overnight stay. I had huge expectations from the Athirappilly falls. I thought if I was enjoying at the waterfalls, then I don't bother about the time or mind staying in Chalakkudy for a night and watch the recent malayalam superhit "Drishyam" and Lal-Jose's "Ezhu Sundara rathrikal" back to back. In both of my previous trips to Kerala I had watched Lal Jose's "Meesha Madhavan" and "Mulla", so I thought of watching LJ's "7 sundara rathrigal" if I stayed back.


The Silverpark theme park passed by and once again I was scared whether I had missed my destination. Thankfully it didn't happen. The conductor asked me to get down at the Forest office to get a ticket for myself. I took a ticket for myself (Rs. 20/-) & a still camera (Rs. 10/-) and started walking towards the falls. My camera became operative since this place. It is about 200 mtrs far from the office and in the midway you get a good view of the "Indian Niagara" from a distance.


The ticket issued is for both Athirappilly and Vazhachal (வாழச்சால்) falls, so it is better to keep the ticket safe throughout the trip. Since it was early (for tourist standards) 8:45 a.m, it felt like that I was the only tourist that day. The path towards the falls are maintained beautifully and it was a plastic free zone. I had a couple of deers to give company to me for that walk. By the time I reached the falls, I noticed that there were many people already.


I realised that I had come in a "not so right" time because the waterflow was very much less. Still I don't have any regrets because I was able to break that jinx. When I come here again with my parents, Akila and Aadhi, I'll be in a position to guide them confidently. The water flow in the river was very less and there are lot of restrictions for the limits beyond which you can't get into the water. There are a sizeable number of guards who keep monitoring the tourists. I am now standing at the top of the waterfalls. From there you can see the tourists standing and enjoying the magnitude of the falls from the below.

The path that takes you to the bottom of the falls is nothing short of a trekking experience. The forest department had built a stable stone way for the ease of the tourists. Still in lot of the places, the tourists had formed their own shortcuts which are steepy and slippery. Actually I had a photographic lesson there. I had left my "White Balance" in auto mode. I was not satisfied with the color tone of the photos. Since the path was well covered with the tree & shadows, I changed the white balance setting to "shade". I was pleasantly surprised to see the colour quality in the subsequent clicks.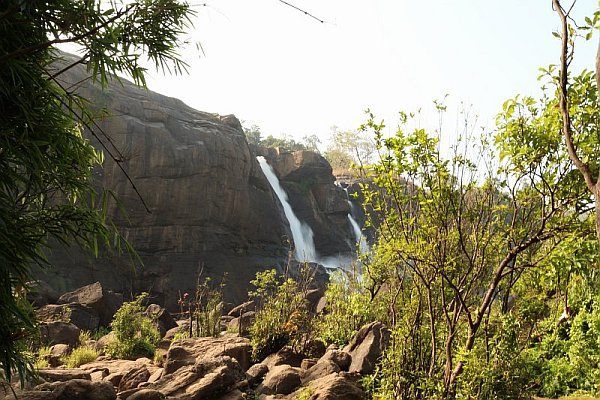 The whole of the path is full of bamboo, teak and twines, so it was quite mesmerising. I can understand why cinematographers flock to this place at the drop of the hat. It takes just 10 minutes to reach to the bottom and the views of the falls that I kept getting between the trees made a good composition. There are designated "view points" from where you can watch the falling beauty. Since the water flow was very much low, I believe that I can get stunning views if I come again at a later time. I was chatting with a security person and he said that the Athirappilly falls will be in her best between the months of July-September. He also confirmed that the bus to Valarai comes at Athirappilly by 2:30 P.M and suggested me to take the 3:45 TNSTC bus if I want to go to Pollachi.

It was just 10:15 A.M and I don't have much to see / spend time there. For a hydrophile like me who spends hours and hours in the waterbodies, I found it irritating to be restricted to get even my feet wet. So I came to the top of the falls again. In my return journey I had a very nice chat with a local guy named Bharathan, who sells pictures. We were constantly chatting in malayalam about the Ravi Varma paintings and Kerala Murals and by the time I reached the top, it was like as if I know that person for a long time. So it was bit hard to say a good bye.


I reached the gate of Athirappilly by 10:30 A.M and was thinking of how to kill next 4 hours. In my google searching I found that there are three waterfalls in the vicinity - Athirappilly, Charpa and Vazhachal. The sign board read "Vazhachal - 5 kms". I had a tender coconut with a local lady and I asked her whether any townbus is there for Vazhachal. She said that all the buses that go to Valparai pass through Vazhachal and I can wait. Other than the Valparai buses, no local buses are plying in that route. So I decided to walk those 5 kms and took my first step in that direction.


Till half kilometers the road was parked with vehicles and I walked beyond that. After that there was no habitation. The Athirapilly falls gets its water from Vazhachal, so the river flow was steady and smooth. The chirping of birds, sound of the brook and the pleasant breeze was toxicating. I kept walking and there were occassional passage of cars / vans in that road. After a kilometer I saw that board and was scared. It read as "Elephants will cross this area and the travellers are requested to give way to them".


I was all alone and there were no trails of visitors in sight in both the directions. Mustering my courage I walked further. Some vans and cars passed through and I was even thinking of asking for a lift. Then I thought if something is destined to happen, it will happen no matter how secure you are. So let me take the risk and walk. After a kilometer I had four bikes zooming past ahead of me and circling. Again I was scared. If anybody snatches my costly "Canon EOS T6i" I am in a vulnerable, helpless position. Thankfully they turned out to be the localites who settled in a place with their liquor bottles. I walked faster and saw a old man sitting in the shadow. To show myself casual I asked him "How far is Vazhachal?" He said "3 kms".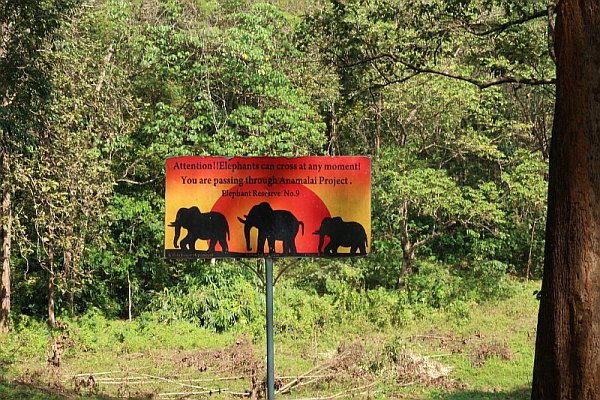 The sun was already in the ascent but still I didn't get any fatigue thanks to the trees and the Chalakudy river that was traveling along with me albeit in the opposite direction. Exactly after a kilometer I came across the Charppa falls, which unfortunately was completely dry. The security guard there asked whether I was alone and I said "Yes". I was expecting him to give some advise like why I was alone in that way etc etc... but he just smiled and said "Vazhachal is 2 kms more".


The another board managed to scare me as it not only read as "Wild animals crossing area" but had the images of the elephant and a leopard. I started thinking of how fast I should jump to catch the nearest tree and in that calculation itself I almost reached Vazhachal. In the distance I could see the entrance of the Vazhachal falls. I heaved a sigh of relief.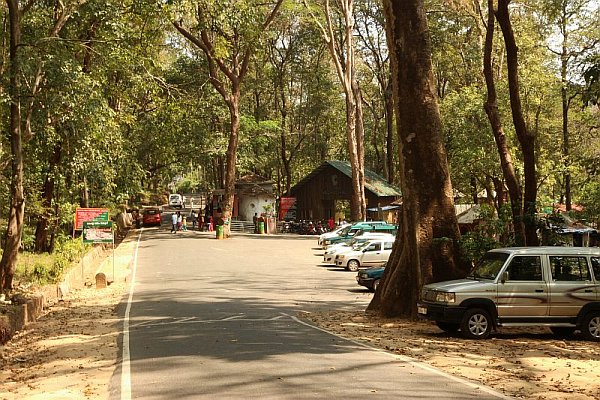 The waterflow was much better in this Vazhachal falls and it was a nice sight for the eyes. This is a very small area with a so called "Children park" and a "Herbal Garden". The board reads as if these are the 'added' attractions but in reality these won't even come to 1000 sq. ft. The children play area had 2 swings out of which one was broken and a slant plane.

As usual, we are not allowed to access the water, so all I did was just "watching" the water flow. The cold breeze, tree shadows were just caressing me and because of the tiredness I just slept.

I woke up and saw that it was 1:30 P.M and the security confirmed that the Valparai bus will come at 2:45 PM. So to kill the time I started clicking macro photos of the leaves, so that I can use them for E-Greeting Cards. In the process, I walked out and started walking towards Charpa falls. Suddenly I heard a vehicle stopping behind me.

It was a Police Patrol vehicle and the police man was asking "Endha paribadi ivide?" (Whats happening here?). I replied back in malayalam that I am waiting for Valparai bus and since there is more than an hour left, I am killing time by taking the photos. He told me to go back to the Vazhachal falls entrance. I was thinking what would have happened if this guy had caught me while I was walking towards?

There is a checkpost immediately next to the Vazhachal falls gate and the routine checks for the vehicles that cross the Kerala border is done there. That is the starting point of the road that connects Kerala and Tamilnadu. All the vehicles that want to ply on that road should undergo a check. Carrying of plastic bags, bottles in banned and if the water bottles need to be carried, they have to be declared and cross checked at the Tamilnadu side. Any discrepancy in the numbers will attract a fine of Rs. 1000/-.


The bus came a couple of minutes ahead of the scheduled time, that too fully loaded and I got into that. Ever since I heard about that road, I was so eager to travel in that road. Within 15-20 minutes, the bus reached a village called "Puliyilapara" and was stopped for few minutes so that the travellers can have coffee / refreshments. Many people had got down and I had got a seat to sit.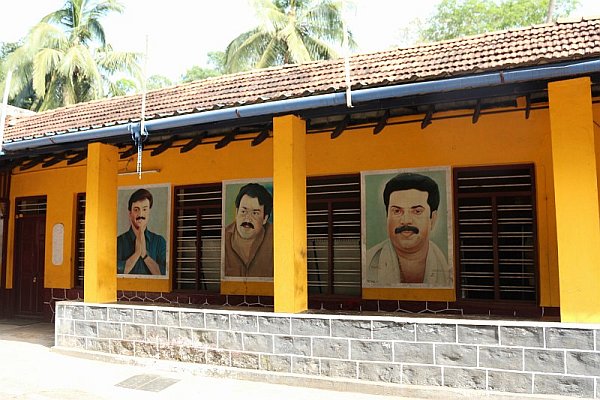 The bus passed through the path that stretched for around 40-45 kms without any habitation. We passed through the Poringalkuthu Hydro Electric Project dam. The path was so narrow that if any vehicle comes in front of our bus, it had to be taken in reverse till the curve, so that we get little more room for manouvering. I don't know how to express, but it is an experience. Because of travelling in the bus, I kept the camera on "Sports" mode and clicked the pictures out of which only very few turned out to be good.

I had decided that in future I MUST travel in this route on a two wheeler so that I can stop and click photographs wherever I want. It is not advisable to travel in the evening and if we are lucky then we'll encounter elephants and gaurs. I am sure Aadhi will enjoy the trip if it materialises.

The thick bamboo forest gave way to the well maintained Tea Estates and we are in the place called "Malakaparai". The check post here marks the end of Kerala territory and the start of the Tamilnadu state. I was able to sight the "Sholayar Dam" in the long distance but tried so many shots to get a glimpse of it. Sholayar Dam is the second largest water reservoir in Asia.


Once the bus enters into Tamilnadu state, the roads are very poorly managed with lots and lots of potholes that it almost takes away the sheen of the travel. After an hour of tedious travel, I reached Pollachi bby 6:00 P.M. I was not in a mood to explore further, so I gave up the idea of staying back in Valparai and got into the Pollachi bus. After a 3 hrs journey I reached Pollachi bus stand by 9:00 P.M and a further 1:30 hours took me to my brother's house at Coimbatore. This marked the end of the long wish travel to Athirappilly falls.


Good that I travelled alone because if I was with family, then I wouldn't have got a chance to walk all the way from Athirappilly to Vazhachal, which was a thrilling experience. Also now I know how much time I can expect to stay at each location and what to expect from those places. So I had decided to have a lone travel often and use that experience to guide my family when taking them to that place again.
See the full collection of photos in my Picasa Album here:- https://plus.google.com/photos/113003645509365508027/albums/5965616006874677729